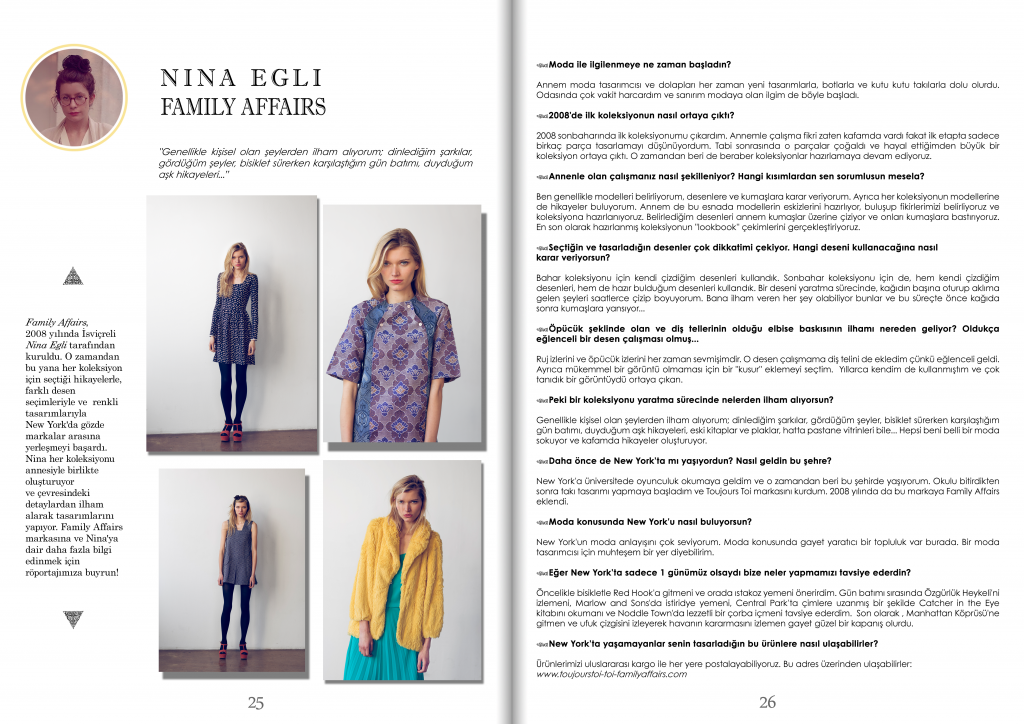 Deniz Yilmaz
's interview of Nina for her Turkish magazine
Match-Up
Translation:
* How did you start to be a part of fashion industry?
My mum is a fashion designer and she had this amazing closet room with her archive designs, denim plateau boots and boxes of jewelry, I spent a lot of time in that room and I feel that is where it all started..
* How did you decide to create a collection on 2008? Was it your first collection, right?
Yes exactly, fall 08 was our first collection! It was an idea that was floating around for a while to work with my mum and just produce a few pieces but then it became a full collection of course and it's been nonstop since then.
*Can you tell about your fashion story with your mother? Which parts she is responsible, andwhich parts you are, while creating a new collection?
I usually start working on shapes, styles, mood, fabric inspiration and get to a story for a collection. My mum is doing style sketches at the same time. We meet up and discuss our ideas and create a collection. My mum does all the patterns and I source all the fabrics, make the prints, style the lookbook etc.
* I think that your collections' patterns are so special, do you design these patterns/prints byyourself? How do you choose which patterns you'll use?
Thank you! For spring I like to draw the prints myself and for fall I usually do a mix between interesting textures like the jaccquard of this season and then add a few prints. When I start on the patterns I usually sit down and paint and do it all in one session, so I just paint for hours, things I am thinking about, that inspire me..
* What is the story behind the braces & kisses prints? (one of my favorites)
I love lipstick and kisses! I added the braces because it makes it more fun and imperfect! Not that it is fun to have braces: I had them for many years.
* Which things (or whom) make you draw inspirations during working on a collection?
It's always a personal thing, songs I listen to, things I see when I bike around at sunset, love stories that happen, old books, records, even bakery displays. It all creates a mood, a story.
* Did you live in NYC before, how did you come to this city?
I studied acting in NY and then I started making jewelry and in 2008 I added Family Affairs.
* How do you find fashion designs in NYC, are they inspirational enough?
I love NY fashion, love the community, It's a really great place for fashion!
* If we have only 1 day in NYC, what you can suggest to do for us?
I suggest you bike to Red Hook to eat some Lobster and watch the Statue of Liberty at sunset, to eat oysters or granola at Marlow and Sons, to lay in the grass in Central Park and read Catcher In The Rye, to eat soup at Noodle Town and to wear sneakers. Ride the subway over the Manhattan bridge and be blown away by the skyline.
* If we're not living in the USA, how can we purchase your items?
We ship internationally with a flat shipping fee of $10 from our website
www.toujourstoi-toi-family-affairs.com