The hunt for the classic
Valentines Day Dress
, the showstopper, could be a long hunt, but we've saved you a lot of time, with the
Elton
. Has there ever been a dress more perfect than the
Elton dress
? The beautiful bright red chiffon is so stunning. It's incredibly comfortable, with a love v neck to show of your jewels and the drape of the dress will flatter your dance moves whether your the shimmy or gliding type.
Tennessee Thomas snapped a wonderful picture of
Alix Brown
in the
Elton Dress
at
The Deepend Club
(which stocks Family Affairs and is a very fun store if you have yet to check it out.)
Not only will this dress take you from day to night, but more importantly from night to day, if it's the kind of night that never ends.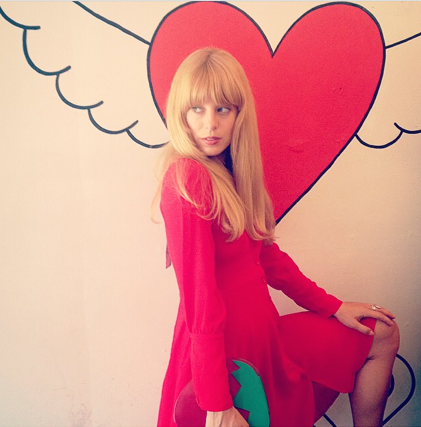 Today's Road to Valentines song is
The Capris There's A Moon Out Tonight
. This song is a dream, listen to it with your eyes shut and long for endless night walks by the water.
S